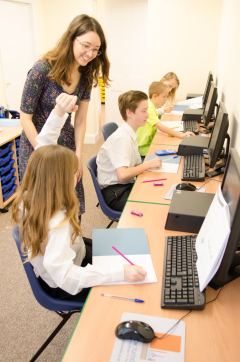 Our philosophy is that every child is an individual and has his/her own learning style. That is why we teach individuals and not groups. During sessions, students complete a mixture of computer based and paper based activities that have been planned with their individual needs in mind. This means that each student will be completing different work to those sitting either side of him/her. There are many reasons why this unique form of tuition is so effective:
Children do not feel singled out, pressured or self conscious about tuition in a group setting
They do not compare themselves to others in the group because they are all completing different tasks
There is a real sense of camaraderie within the group
Concentration skills and independent learning skills are best developed within a small group
The 'learning how to learn' skills are easily transferred from the small group setting to the larger classroom setting
We believe that learning should be enjoyable and that children need to experience success. The frustration of failure leads to a downward spiral and can switch children off from learning. At Holbrook Tuition Centre, every child experiences success in the sessions and works towards prizes. This motivational form of teaching helps children to discover the joy of learning and foster the belief that learning can be fun!